Lessons
A cut above the rest…
"Bridging the gap between reading and making music for over 30 years."
Lessons are available at my studio Monday through Friday between the hours of 9:00 am and 9:00 pm and on Saturdays between the hours of 9:00 am and 2:00 pm. Teaching six days a week, I can be flexible with lesson times and am able to accommodate any necessary rescheduling due to school or family activities etc. and there are no substitute teachers. Please note that I close for business on Sundays, taking it as a common family day together.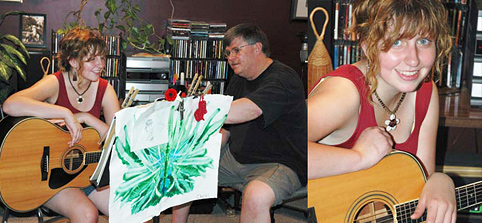 Strings & Fingers GUITARISTS' WORKSHOP offers guitar lessons for persons of all ages and levels of skill. Study the musical styles of the past or present, I combine a passion for the guitar and music education with over 30 years teaching experience.
Private lessons usually consist of 30-minute classes each week. These may be extended to 60-minutes for more advanced students upon request. Instruction is also available on other stringed instruments such as bass guitar, tenor or 5-string banjo and mandolin. Inquire about availability.
If you think you would enjoy learning alongside 2-3 other like-minded musicians check out the "Workshops" page for more information about my small group workshops for beginning to advanced players.
Weekly lessons format…
Each week, students have a performance review of the previous week's material and we discuss any questions or concerns. Clearly, it is important to practice and the recommended minimum is a total of 3 hours per week practice time. New material is introduced based on individual progress and skill level with the lesson content and song repertoire tailored to the player's musical interests and taste.
Reasonable rates and flexible payment options along with a Special Introductory Offer for new customers are all available. If you are purchasing a new guitar and don't know where to begin, I also provide a complimentary service to help you choose the right instrument. Ask for details.
I would be happy to meet with you at your convenience to discuss rates and available lesson times, to give you a free estimate on guitar maintenance and repair or to lend some expert advice on selecting a new instrument. Please call or e-mail me when you have a moment and let me know which day of the week and time would suit your schedule best. I look forward to hearing from you soon.
Location…
You will find a map with directions to Strings & Fingers GUITARISTS' WORKSHOP on the "
Contact Info
" page.
Testimonials
| | | | |
| --- | --- | --- | --- |
| "I absolutely loved Larry's guitar lessons; he makes it so easy to learn both the theory and the practical - I would recommend him in a heartbeat." | "I find Larry to be professional, very knowledgeable, an experienced and accomplished musician. He is always a pleasure to deal with." | "I have known Larry for over 10 years and would not hesitate to recommend him both on a personal and a business basis." | "I met Larry at the beginning of my career as a Music Pastor. Larry taught me the foundations of guitar playing. He provided tools for me that I still use constantly in my music ministry." |
If you would like more information regarding lessons at Strings & Fingers GUITARISTS' WORKSHOP please contact:
Larry Chown
905-434-7255
guitarguy@stringsandfingers.com

Copyright (c) 2009. Strings & Fingers, Silver & Rosewood.